Maria Nila Color Refresh
Maria Nila Colour Refresh is een zacht haarmasker met non permanente kleur pigmenten. Door Colour Refresh te gebruiken kunt u eenvoudig uw huidige kleur intensiveren, of de kleur van uw haar veranderen. De kleur gaat tot 10 wasbeurten mee, en zal geleidelijk worden uitgewassen. Het resultaat hangt af van de kwaliteit van het haar. Het masker zal sterker reageren op behandeld of poreus haar. Inclusief twee paar handschoenen van hoge kwaliteit.
Maria Nila Colour Refresh is zowel een tijdelijke kleuring als een voedende haarbehandeling. Het hydrateert en vermindert kroezen voor een zijdezacht en glanzend resultaat. WHITE MIX kan gebruikt worden om pastel kleuren te maken van de intense kleuringen, of mix je eigen favorieten!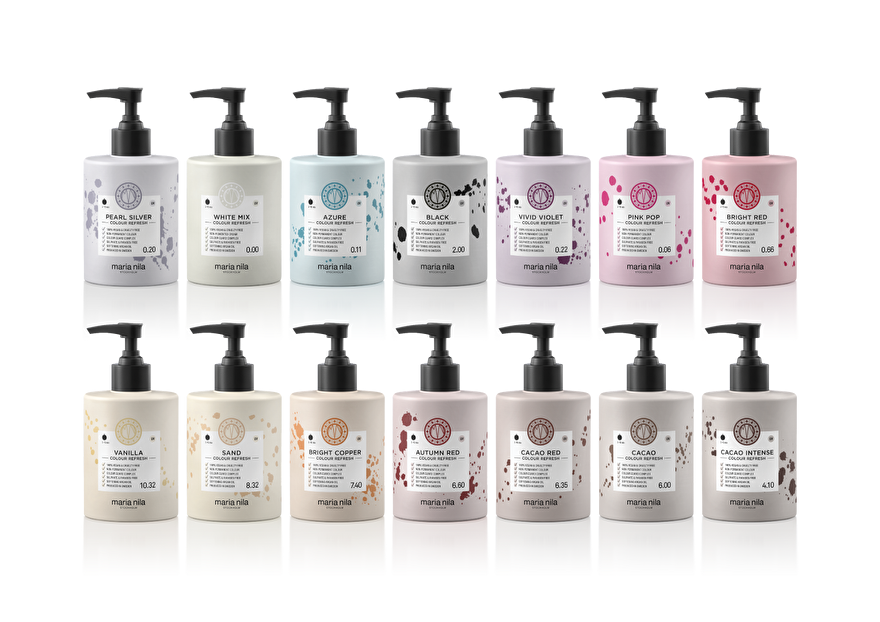 Gratis verzenden vanaf € 37.50

Maria Nila Color Refresh Colors 300 ml

Is een verzorgend masker met kleurpigmenten om uw haar eenvoudig en snel op te frissen.

Maria Nila color Refresh zijn vrij van sulfaten en parabenen en bevatten ons speciaal Colour Guard Complex voor verzorging en bescherming van…

€ 29,90

Gratis verzenden vanaf € 37.50

Maria Nila Color Refresh - WHITE MIX -100ml

Eenvoudig en snel een nieuwe haarkleur met Maria Nila Colour Refresh

Maria Nila Colour Refresh is een verzorgend masker met kleurpigmenten om uw haar eenvoudig en snel op te frissen. De producten zijn vrij van sulfaten en…

€ 17,90

Gratis verzenden vanaf € 37.50

Maria Nila Color Refresh PINK POP -100ml

Maria Nila Colour Refresh Pink Pop

is een verzorgend masker met kleurpigmenten om uw haar eenvoudig op te frissen. Bovendien is het mogelijk om een nieuwe kleur aan te brengen, dit hangt af van de gekozen inwerktijd. De…

€ 17,90

Gratis verzenden vanaf € 37.50

Maria Nila Color Refresh - PEARL SILVER -100ml

Maria Nila Colour Refresh Pearl Silver

is een verzorgend masker met kleurpigmenten om uw haar eenvoudig op te frissen. Bovendien is het mogelijk om een nieuwe kleur aan te brengen, dit hangt af van de gekozen inwerktijd. De…

€ 17,90

Gratis verzenden vanaf € 37.50

Maria Nila Color Refresh - VIVID VIOLET -100ml

Maria Nila Colour Refresh Vivid Violet

is een verzorgend masker met kleurpigmenten om uw haar eenvoudig op te frissen. Bovendien is het mogelijk om een nieuwe kleur aan te brengen, dit hangt af van de gekozen inwerktijd. De…

€ 17,90

Gratis verzenden vanaf € 37.50

Maria Nila Color Refresh - DUSTY PINK -100ml

Maria Nila Colour Refresh Dusty Pink

is een verzorgend masker met kleurpigmenten om uw haar eenvoudig op te frissen. Bovendien is het mogelijk om een nieuwe kleur aan te brengen, dit hangt af van de gekozen inwerktijd. De…

€ 17,90

Gratis verzenden vanaf € 37.50

Maria Nila Color Refresh - BRIGHT RED -100ml

Maria Nila Colour Refresh Bright Red

is een verzorgend masker met kleurpigmenten om uw haar eenvoudig op te frissen. Bovendien is het mogelijk om een nieuwe kleur aan te brengen, dit hangt af van de gekozen inwerktijd. De…

€ 17,90

Gratis verzenden vanaf € 37.50

Maria Nila Color Refresh - BLACK -100ml

Maria Nila Colour Refresh Black

is een verzorgend masker met kleurpigmenten om uw haar eenvoudig op te frissen. Bovendien is het mogelijk om een nieuwe kleur aan te brengen, dit hangt af van de gekozen inwerktijd. De…

€ 17,90

Gratis verzenden vanaf € 37.50

Maria Nila Color Refresh - CACAO INTENSE -100ml

Maria Nila Colour Refresh Cacao Intense

is een verzorgend masker met kleurpigmenten om uw haar eenvoudig op te frissen. Bovendien is het mogelijk om een nieuwe kleur aan te brengen, dit hangt af van de gekozen inwerktijd. De…

€ 17,90

Gratis verzenden vanaf € 37.50

Maria Nila Color Refresh - CACAO -100ml

Maria Nila Colour Refresh Cacao

is een verzorgend masker met kleurpigmenten om uw haar eenvoudig op te frissen. Bovendien is het mogelijk om een nieuwe kleur aan te brengen, dit hangt af van de gekozen inwerktijd. De…

€ 17,90

Gratis verzenden vanaf € 37.50

Maria Nila Color Refresh -AUTUMN RED -100ml

Maria Nila Colour Refresh Autumn Red

is een verzorgend masker met kleurpigmenten om uw haar eenvoudig op te frissen. Bovendien is het mogelijk om een nieuwe kleur aan te brengen, dit hangt af van de gekozen inwerktijd. De…

€ 17,90

Gratis verzenden vanaf € 37.50

Maria Nila Color Refresh - BRIGHT COPPER -100ml

Maria Nila Colour Refresh Bright Copper

is een verzorgend masker met kleurpigmenten om uw haar eenvoudig op te frissen. Bovendien is het mogelijk om een nieuwe kleur aan te brengen, dit hangt af van de gekozen inwerktijd. De…

€ 17,90